How to Create Your Online Packing List in 5 Steps
How easy is it to create your online packing list?
Over time we have shared numerous travel packing lists, from the packing lists for a quick weekend getaway, staycation, ski trip, and even a fun trip to Disneyland.
However, you may still want to create your own packing list to be sure that you have everything you feel you need.
Creating your own packing list may sound complicated and time-consuming, but it isn't and can be completed in a few steps.
In this article, I walk you through how you can create your own packing list from scratch; this way, you never have to worry about forgetting an item while going on a trip ever again!
How do you create your online packing list?
You can create a fully customized and easy packing list for any trip with the following simple steps.
Step 1: Get the essential items first, using other packing lists.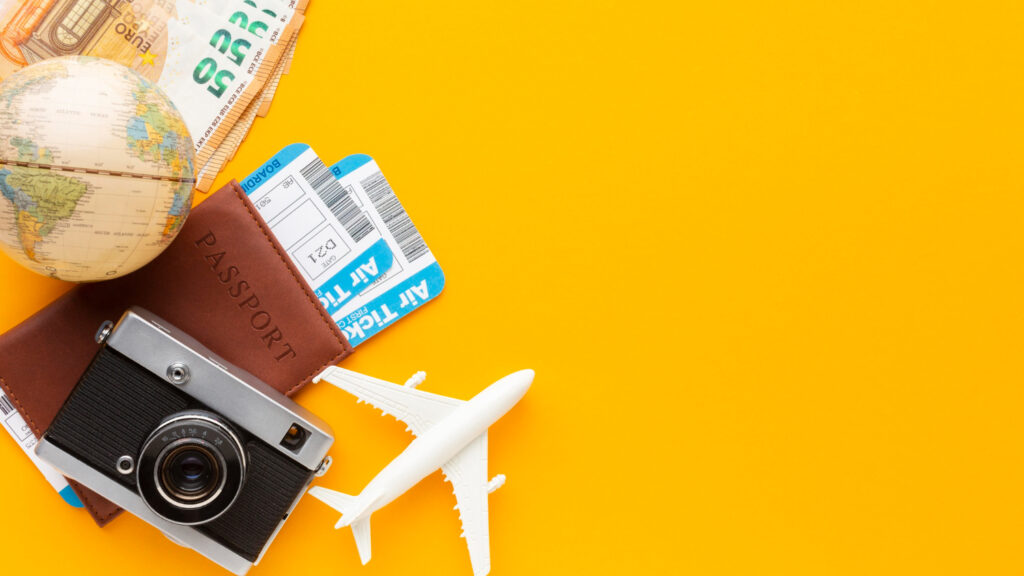 Aside from the fact that you've got certain preferences that are peculiar for your trip to include in your packing list, some vital categories and items are essential for all travel kinds, and you'll need to have them in the list even before thinking of what is more suitable for your journey. You want to quickly check other (already-made) packing lists for these essentials.
Every trip is different, but a lot also stays the same. Even if you went on a beach holiday in the Mediterranean last summer and you are planning a trip to the high mountains in Nepal this year, and the two packing lists differ significantly, there are yet several items everyday on the lists that will be important for both journeys or any other one, even on such different destinations.
For example, if you compare several packing lists for different travel purposes you'll notice that the Papers and Documents category especially, as well as the hygiene and health category of them all are similar.
So, first, you want to check past packing lists and get a close look at the essentials before you focus on what you want or what you'll need at your new travel destination. This way, you save some time thinking about the essential items.
Step 2: Draft out all the necessary details on paper or a Spreadsheet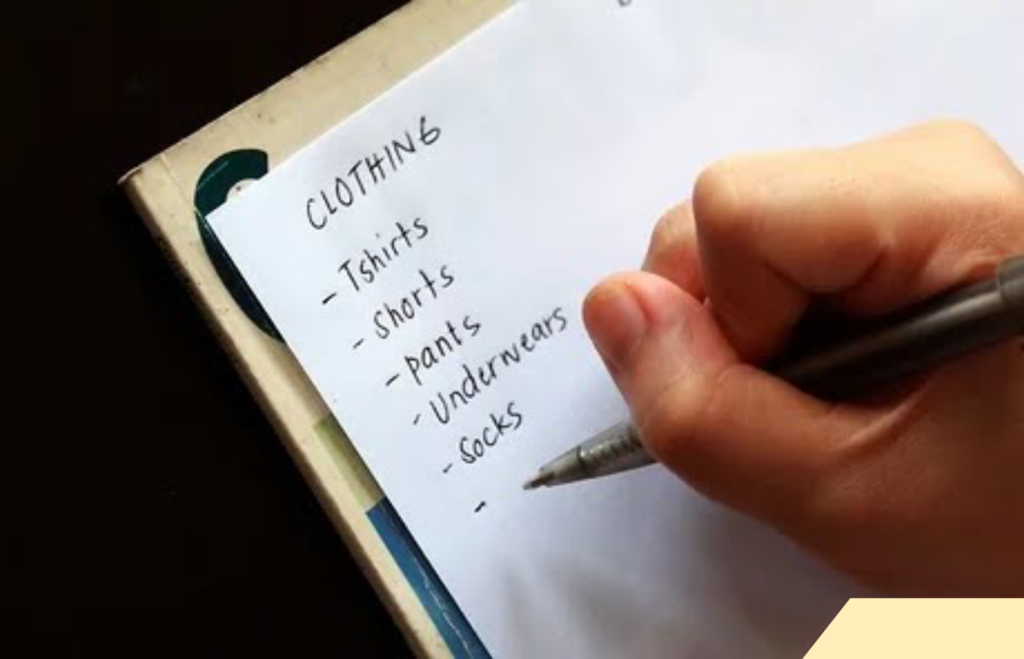 Sometimes handwritten packing lists are the best in helping you think and providing clarity.
Having checked past packing lists for essential items to pack for your journey and identifying what you want on your packing list or that is suitable for your trip, the next thing to do is write them out on a piece of paper or type them out using a spreadsheet.
Start by giving the draft your title. Create columns for all the categories of items you consider necessary for your trip, like, clothing, shoes, cosmetics, medicine, technology, etc., including the ones that are essential for all kinds of trips, e.g. documents.
Fill the Document and other important categories with items that will be demanded before you can access your flight/trip, and fill the remaining categories with what you feel is suitable for your travel destination (write or type everything you've got in your head).
Although you would enjoy a satisfying feeling as you go over and cross out certain things from a list you wrote on a real piece of paper, getting your draft directly typed out on a spreadsheet simplifies the medium of copying.
This makes the process more online and can be used as a rough draft to make or edit your packing list's final copy.
Step 4: Use Dropbox, Google Drive, or Evernote to Edit And Save Your Draft
By storing your list in a cloud-based platform like Dropbox, Evernote, or Google Drive, you reduce the risk of it getting lost, deleted, or forgotten.
Web tools not only give more beauty to your packing list, they are also vital for quick access and reference during your trip.
Evernote is your real deal when it concerns beautifying packing lists. You can make your list from it and add pictures of unique pieces of clothing with other items you want to pack in the same note. It gives you access to your packing list on the go, with beautiful pictures and colors (you don't have to be stuck to black and white with this).
And since it's your vacation, seeing these beautiful colors as you go on a flight or train can give more brightness to your trip.
Step 3: Don't do the Guess Work: Use The Check and Pack app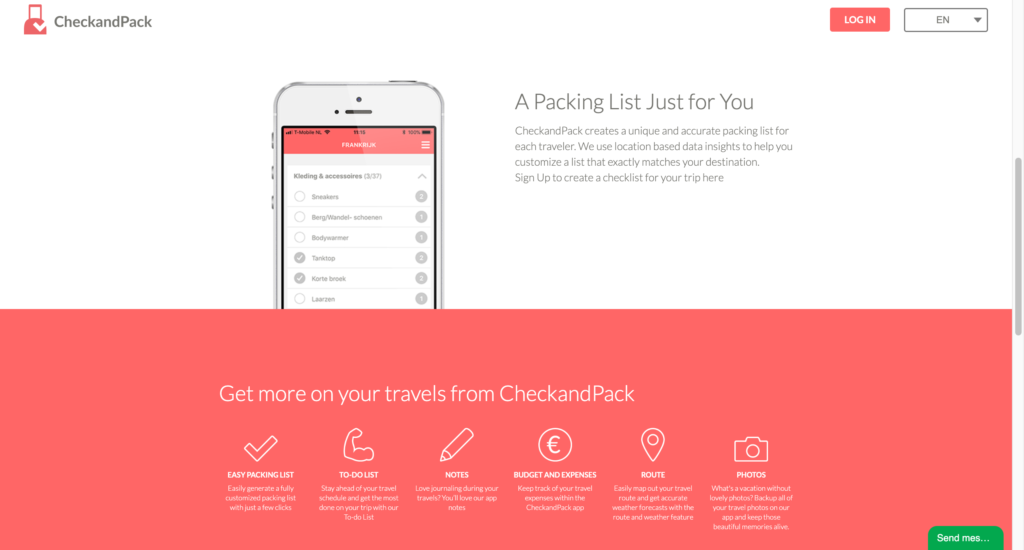 The fastest way to create an online packing list that is customized to your trip and travel location is by using the CheckandPack app.
CheckandPack creates a unique and accurate packing list for each traveler. We use location-based data insights to help you customize a checklist that matches your destination.
In case you get tired thinking up what to write in each column(category), or you don't even know the right types to include, here's a way out for you with CheckandPack.
With CheckandPack, you are assured of smart and organised travel with a lot less worry about forgetting important items.
Making a packing list with Checkandpack is easy and can be completed in a few minutes. It starts by asking you a few questions about your trip details, obtains your answers, and uses them to create a personalized packing list for you with up to 500 items you can pack.
You can further customize this list by adding or removing items where necessary.
Bonus Tip: With the checkandpack app, you can create and manage your travel budget, create an itinerary/to-do list, and back up your travel photos.
Step 5: Upload your packing list to Pinterest for a picture-mode experience
Visualizing your packing list on Pinterest can be a game-changer. Adding images of your outfits or outfits you would love to wear gives you ideas of mixing and matching. You can immediately figure out what isnt working and take them off your list.
Start by taking pictures of all your outfits and other items you want to pack or use the images already on the site. Make the images under a packing category into one collage and title the collage the category's name.
Repeat the same step for other packing categories and keep them in a named folder, e.g., "What I Packed for my Holiday at the Mediterranean Beach." With this, deciding what to wear at your travel destination is easy. Just flip to see what you love.
Before You Get on the Flight for Your Trip
Cut down on the packed items. Crosscheck your packing list before leaving and cross out any item you'll be fine without. Try to reduce the list by packing multiple-use items such as inserting a cord that can charge multiple electronics and packing clothes you can combine with numerous outfits.
Double-check to see if you're missing an item. Check your packing list, look under your bed, on the wall, or in the bathroom, and ensure you left nothing behind.