Are Packing Cubes Worth It? How To Organize Your Suitcase Using Packing Cubes
When you travel, either solo, with your family, or even for work, packing and unpacking can be challenging and stressful.
Despite using a great packing list to ensure that your packing is seamless, you may still need to figure out how to organize the stuff in your suitcase.
Depending on how exhausted you are after your trip, the first thing you want to do when you get to your destination is taking a shower, get some rest, and explore your surroundings. Unpacking will, however, stand in the way of these activities. We've all experienced it.
While Traveling, you may also tend to load up on laundry until you return from your holiday, either because you need access to a washer or more time to do it in a way that won't interfere with your pleasure.
Whatever the situation is, by doing this, you frequently end up combining clean and dirty laundry. Doing this can be frustrating, but it's completely avoidable when you pack your clothes and travel essentials into cubes.
Not only can packing cubes make it feasible to carry more clothing and other accessories in your luggage while traveling and keep everything organized, but they also help you unload after you get to your destination. Most of the time, unpacking and setting up your clothing and other necessary travel gear takes a lot of work.
This article will tell you how to organize your travel items using packing cubes.
What are packing cubes?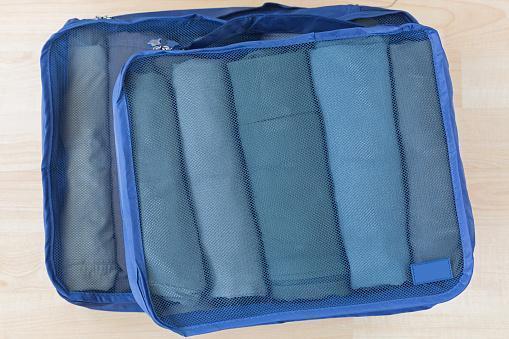 Packing cubes are compact bags that compress clothing to make the most use of space while organizing and compartmentalizing apparel within suitcases. Backpackers, leisure travelers, business, and vacationers all use packing cubes.
Organizing your belongings while you pack is easier using packing cubes, which are usually relatively more petite than a suitcase, lighter-weight containers with a zip fastening. They are available in various styles and sizes to match your travel needs.
How to organize your suitcase using packing cubes.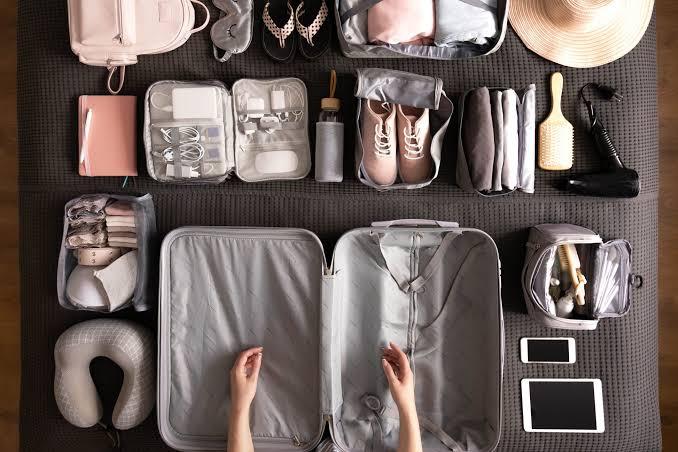 Packing cubes work best if you know how to use them correctly. If you prefer to travel with a backpack or a suitcase, you will find helpful tips for using them here.
● Sort out the essential items using a Packing List.
Depending on the type of trip you are taking, using a suitable online packing list will take away hours of attempting to figure out the essential items for your trip. With a detailed packing list, you already know all the items you need to bring along on your trip, such that you are not overpacking or forgetting important stuff. 
● Categorize your items
Bring together all your travel essentials and categorize them. Place similar items together in categories e.g. bikinis, tops, jeans, toiletries, shoes, hair kit, etc.
Depending on the length of your trip, you can decide to pack duplicate items. If you are traveling with your family, you may need to pack doubles of toiletries and other items.
● Get a set of packing cubes.
Parking cubes are available in various styles and sizes to match your travel needs it all depends on which you want. With the categorized travel items lying pretty on your bed, fold each category into its designated cube. You can roll or fold them into the cubes for shirts, pants, underwear, and vests; it is up to you. This helps to elude wrinkles and poise the weight, so every edge is maximized, and you do not end up with a bulgy cube.
● Arrange the cubes in your suitcase.
This part is easy but requires the skill needed for assembling things in a box. Depending on your suitcase, you can arrange the cubes horizontally or vertically. If the backpack or bag has a single deep section, as most do, the cubes can be placed vertically. With this, unpacking will be easy once you reach your destination. You can even retrieve your belongings and fold the others neatly into your drawers.
How do packing cubes work?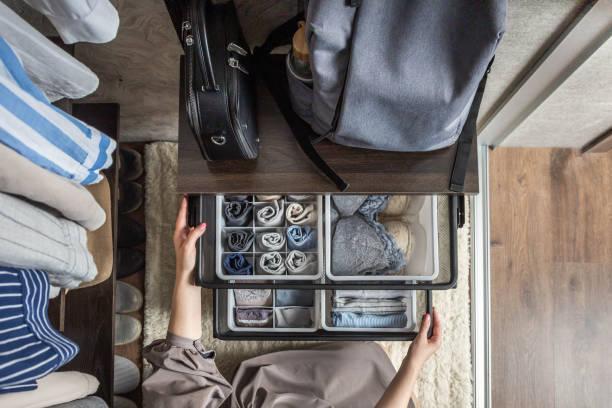 Packing cubes work in a variety of ways, some of which are listed here below:
By compressing each item of clothing you pack, they enable you to fit more items in your bag or suitcase and ensure that everything stays firmly bundled up. 
They are the finest space savers if you like to travel light. When traveling with large items, packing cubes help keep everything neatly packed together, saving you a lot of space.
Using packing cubes and keeping things organized can help you remember what you've packed, where it is, and where it goes when you need to return it. Your tops or undergarments will stay organized when packed within these packing cubes with the rest of your stuff, making it easy for you to identify and access them as needed.
They lessen the possibility of leaving something behind when packing for your return home from vacation. You may easily repack the clothes you previously removed into empty packing cubes after using them while getting dressed.
They also assist you in keeping your suitcase organized and clean so that it doesn't only include a mess of clean and unclean clothing, toiletries, gadgets, first aid supplies, snacks, and other things you plan to bring on your trip.
When searching for an item, packing cubes will save them from becoming mangled in the usual suitcase chaos.
Are packing cubes worth it?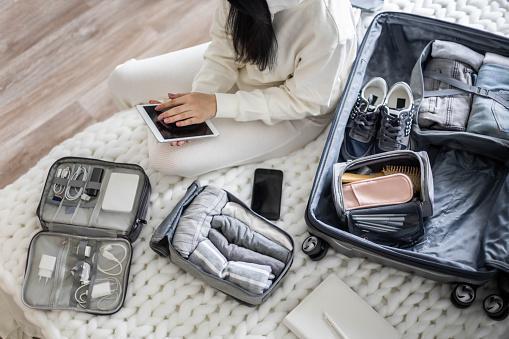 Packing cubes are unquestionably worthwhile.
One of the finest travel tips is to use packing cubes to organize your clothing and several other necessities. They are worth the attempt because they are a good option, whether flying overseas, going on a long vacation with the family, or going all alone. They provide plenty of room in your suitcase and assistance in ensuring that everything you packed for your vacation remains relatively intact even while it is being transported or loaded onto an aircraft or into a vehicle.
Additionally, having an orderly suitcase with items that aren't wrinkled is all you need when you travel, and packing cubes deliver that, making packing cubes very rewarding.
Packing cubes are always helpful for organizing, setting up, and managing your travel necessities. Particularly when packing for children, packing cubes make it simpler to separate your children's clothing and travel accessories for easy identification.
Additionally, they are durable; you may use them for many years to come, and they are not likely to fall apart after only a few uses. You can get them in various sizes, colors, and designs to comfortably suit every article of clothing, every essential, and any piece of travel gear you must bring on your trip. To make it easy to see what is within each packing cube, we recommend using packing cubes with a mesh panel when making your selection.
Conclusion
You can tell from this article that packing cubes are well worth it and will keep you organized the whole time you're away. They take up little room and are easy to store after usage. If you want to keep them after your trip, you may fold them into one another.
We highly recommend using packing cubes. Purchase them for your upcoming solo travel or your family's vacation; they are unquestionably worth it.