What To Wear When Flying For Women
Planning a trip but still deciding what to wear for your flight? 
The first thing you consider after booking your flight, creating your packing list and before leaving for the airport for any type of travel is what to wear. 
Whether it is a short or long flight, it is always important to consider your outfit selection because your comfort is all that matters.
Choosing what to wear when flying can be a bit tiring and overwhelming. From figuring out what's comfortable enough and what's not to taking account of the climatic conditions of your current location and the climatic conditions of your destination.
This article will guide you through what to wear while flying to help you achieve the comfortable flight you need.
What to Wear When Flying; A Complete Guide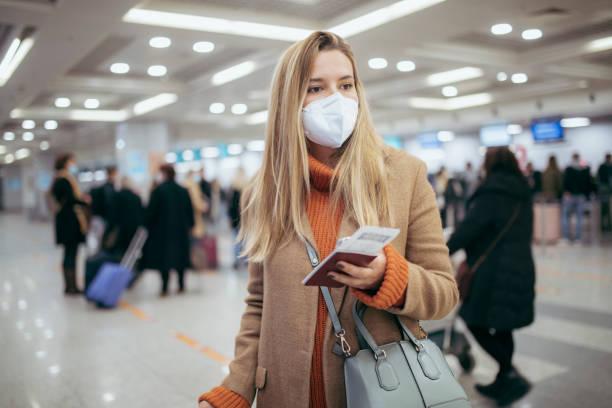 Dresses
When deciding what to wear on a plane, midi, and maxi dresses are fashionable and practical options, especially if you choose soft jersey styles or free cloth representations.
A very well-chosen dress is a stylish way to stand out while remaining comfortable and confident; it will also be ideal if you are traveling in a warmer climate.
A gorgeous midi or maxi summer dress could be reused again during your trip, keeping your suitcase lighter for those who like to travel lightweight.
Additionally, they are easy to layer; you can style a cardigan over them or a t-shirt underneath for increased comfort on your outgoing trip.
Jeans
You can also wear jeans when flying. However, we recommend you put on those stretchy, high-waisted pants that are comfy and not skinny or very tight jeans because your tight jeans will make you feel uncomfortable for the whole flight, especially if it's a long one. Jeans are recommended for your trip because they go with just about anything.
Hoodies and Blazers
When traveling, hoodies and blazers are also cozy to wear. To style them up, you can pair them with your favorite leggings. In addition to being fashionable, you can choose to wear them for comfort because flights can become rather chilly, and they can keep you warm.
Loose-fitting Shirts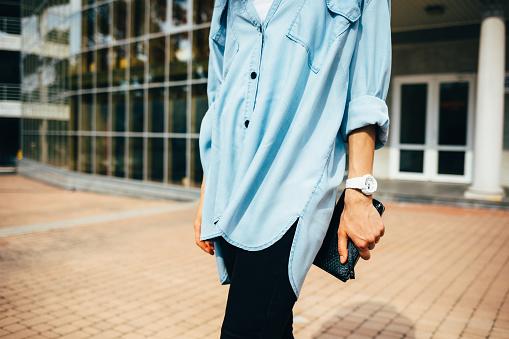 Another good tip is to wear a loose-fitting shirt when you're flying. They may also be used on your journey and go great with additional layers, coats, and a cardigan. Also, we recommend choosing loose-fitting shirts that hold up to sweat and heat.
Leggings and Pants
You can also wear pants or leggings when flying. They may be worn casually yet look stylish with some gorgeous loose-fitting shirts, hoodies, or pullover sweaters. However, while looking for functional pants, look for comfortable elastic or soft waistbands and quick-drying materials.
Additionally, To make your clothing more versatile for your trip, we recommend picking colors that complement other outfits.
Comfortable Footwears
When choosing what footwear to wear when flying, there are several factors to consider, as days at the airport can sometimes be very long, requiring a lot of walking and standing until boarding. Ultimately, comfort and breathability should be a top concern.
Additionally, you might need to take off your footwear for security checks, so going for a footwear that is simple to put on and take off will allow you to save time and makes the process easier for you.
When choosing your footwear, we recommend wearing flats, sandals (as these can be easily removed for airport security checks), and athletic shoes. Also, try to choose pairs that you can wear on your trip to avoid carrying too much luggage.
Lightweight Jacket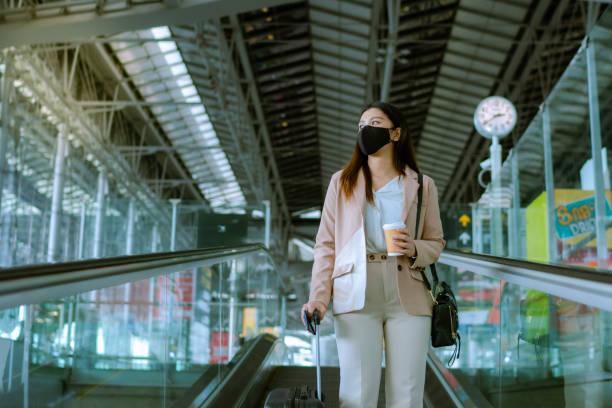 Lightweight jackets serve as additional layers and, in addition to keeping you warm when the temperature on the plane might change, they can also help you regulate your body temperature. Yes, the air on most flights may get a little cool. Layering your clothing may make room in your baggage and be useful while traveling.
Compression Socks
Compression socks are something you should wear when flying, as planes tend to get cold at altitude. Getting cold feet on long flights will only make you more uncomfortable.
Breathable Underwear
It is also essential to wear breathable underwear when flying, especially if you'll be on the plane for a while.
You'll be sitting with your legs closed for a considerable amount of time, so it is very important not to skip a piece of underwear that is well-ventilated.
Also, since cotton underwear dries quickly and tends to smell less, we recommend wearing the elegant one.
Scarfs
When you fly, consider carrying a scarf as well. A scarf may be used as a mini blanket during flights because they could get a little chilly. We recommend bringing a scarf that can be worn in different ways so you may bundle it with a range of clothing when you go.
Backpack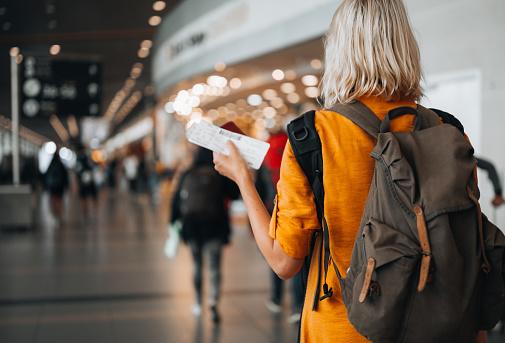 When deciding what to wear when flying, backpacks should be included. They are usually useful for packing your essential stuff and with the ability to store snacks and an extra layer of clothes and offer hands-free capabilities, you can still move your baggage around and keep your essentials close to reaching.
We recommend choosing a size that can fit nicely beneath the seat directly in front of you, and you can also choose one with a laptop compartment and side pockets to keep other items you need within arm's reach for easy access. (such as prescribed drugs from your physician).
Conclusion
What to wear when flying is no easy answer. whether for work or pleasure, it all depends on the taste and preferences of an individual.
But coming up with an outfit plan before boarding a trip is a fantastic place to start if you want to travel in comfort.
The suggested wears mentioned above will help you determine what to wear for your trip, as everything you decide on is comfort-centric.
Finally, we recommend that the texture of clothes you choose should be taken into consideration while deciding what to wear when flying. Cotton fabrics are a good option and it is important to know that fabrics that restrict airflow will trap moisture and are likely to make you uncomfortable while you're moving.