The Complete 7-Day Beach Vacation Packing List

When choosing to take a break from everyday routine activities to refresh our bodies and minds, especially after a long winter, a beach vacation may be the first thing that comes to mind.
From the ocean sky to the ocean itself, to the ocean wind, the beach and the water, sunbathing, etc., people nearly always have a tale to share about it.
For many people worldwide, the beach serves as the ideal escape from the stress of everyday life because of its incredible qualities that generate unforgettable experiences.
For a vacation, a trip to the beach can be an excellent option for anyone. There are beaches of every description, from the most secluded to the highly elite, and they are all just for relaxing.
But you need to carefully pack the items you'll need if you want to make the best use of the beach.
Packing for the beach can be made easy if you have a great packing list to help you.
Therefore we have created a comprehensive packing list for a 7-day beach vacation, particularly to spare you the hassle.
The Ultimate 7-Day Beach Vacation Packing List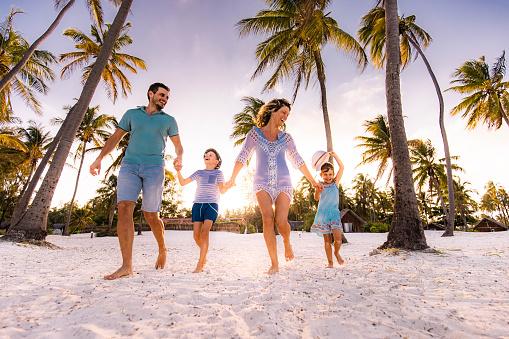 Clothes
The first thing you should consider while preparing for a beach vacation is comfort. Therefore, while packing your clothes, be sure to bring comfortable clothes that are both light and airy.
Given that it is a seven-day beach vacation, we advise bringing at least two to three pairs of swimwear (easy to dry), two to three pairs of shorts, and a few shirts to go with them.
To avoid overpacking, bring a few tops that match your shorts and a few extra layers to keep you warm at night. Swimsuit covers, t-shirts, light sweaters, jeans, casual shirts, dresses (for when you leave the beach), and undershirts are other clothes to take into account.
For a 7-day beach vacation, consider packing;
4-5 short-sleeved shirts
4-5 shorts
1-2 Long-sleeved shirts
1-2 pants
3-4 playsuits
2-3 flowy dresses
1-2 Jeans
Hats
T-shirts
Waterproof shoes
Causal shoes
Sunscreen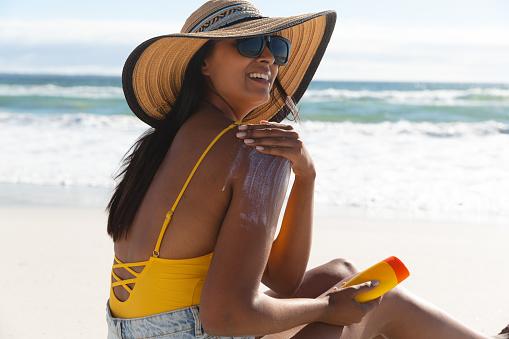 Another important item to include is sunblock. Sunscreen should always be the first item in your luggage when preparing for a beach vacation. You will be exposed to a lot of sunlight, but despite how pleasant it may feel, the sun is not really your best buddy.
The very last thing you would like is a sunburn to ruin your fun. In order to avoid sunburn or possibly sunstroke, ensure you bring as much sunscreen as possible, and remember to use it frequently.
Toiletries
Toiletries are a must-have item when packing for a beach vacation. These personal care goods include the essentials you always bring when you travel, such as a toothbrush, shaving supplies, after-sun lotion, soap, deodorant, wipes, moisturizer, shampoo, and conditioner.
Hotels or beach houses may supply some toiletries, but it is best to pack your own toiletries and skin care, especially if you have specific needs or allergies to certain ingredients.
Beach Bag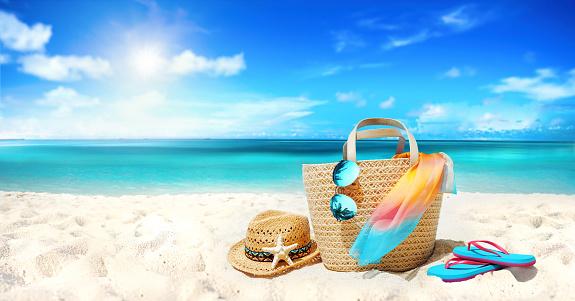 A beach bag is also necessary when going on a beach vacation. It is useful for carrying all of the beach basics, like sunscreen, wipes, snacks, and so on. It also plays a crucial role in ensuring that you have a pleasant time while you are at the beach.
However, to prevent sand from remaining inside, we advise choosing a mesh beach bag and the kind that is water resistant.
Footwears
If you are going on a beach trip, make sure to bring comfortable shoes like flip-flops, sandals, water shoes to protect your feet from pebbles, and elegant evening shoes.
Beach Towel
Bring a light towel to relax and wipe off every sand when packing for the beach. We recommend bringing beach towels that are not too large or a lightweight beach blanket that functions as a towel.
Insulated Water Bottle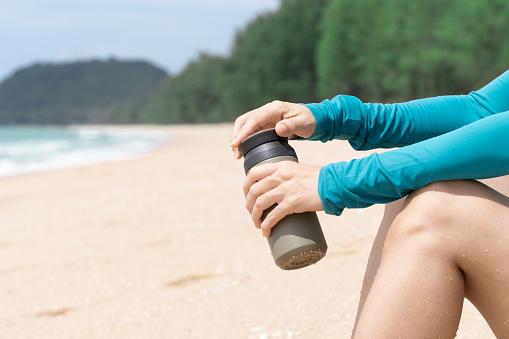 Keep a water bottle in mind while preparing for the beach.
Staying hydrated is crucial because you will likely spend the whole day in the sun. We recommend purchasing an insulated water bottle as your water will stay cold all day. However, Collapsible water bottles are a better choice if you are trying to pack light.
Sunglasses And Hats
You should also pack sunglasses and hats when going on a beach vacation. Your eyes are shielded from the sun's damaging rays by the sunglasses. Do not forget to get quality sunglasses so you may continue to use them after your beach trip.
Also, Investing in a hat will help shield your face and ears from the sun. nonetheless, we recommend For these beach days, the sort that collapses and resembles a straw makes it possible to throw it in your luggage or beach bag without worrying that it will lose its appearance.
Power Bank And Portable Charger
Do not forget to pack a power bank or a portable charger when heading on your beach vacation. While you are unwinding and enjoying the sun, you would not want your phone's battery to run out.
Get a portable charger and a fully charged power bank so your phone is charging while you relax all day. Even though you may want a getaway to reenergize you may still want to stay connected to the world.
First Aid Kit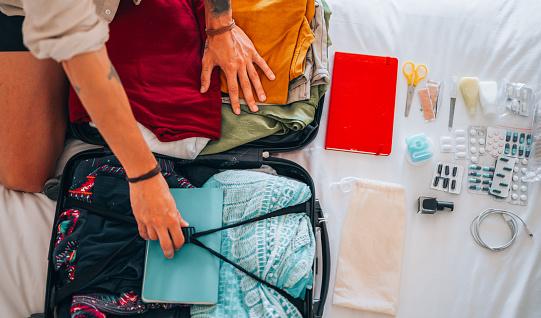 A first aid kit is also a crucial item to pack when going to the beach. Always be more careful than sorry. With a first aid kit, you will be more prepared and at ease in the event of an emergency and minor injuries.
This is crucial, especially if you are taking young children along. Your kit should include items like bandaids, first aid ointment, pain relievers, prescription meds, and other OTCs.
Conclusion
Going on a beach vacation is awesome because it allows you to get away from your normal routine and unwind. It is the best place to stay connected with nature through the vastness of the ocean while also enjoying outdoor beach activities.
You will have all the fun and pleasures of a beach trip by bringing the items we've included above from our 7-day beach vacation packing list.
So, take that trip, relax, and enjoy yourself fully because the beach is the best place to view the stars.