How to Make The Best Wedding Packing List For An Amazing Ceremony
What should be on your wedding Packing List?
With all the excitement and anxiety surrounding wedding planning leading up to the wedding week, it's hard to imagine your wedding day without all the necessary items.
Packing poorly for your wedding can significantly impact the quality of your big day.
No one wants to look back on their wedding day and wish they had been more attentive with their planning or packing.
You can avoid this by setting aside time to list everything you'll need for the wedding ceremony and celebration and organize all these items as soon as possible. This keeps you from overstuffing when you're anxious.
Luckily we've compiled a simple wedding packing list of essential items anyone planning a wedding must bring.
Here is the ultimate wedding packing list you should utilize; this list will assist you in getting started.
The Ultimate Wedding Packing List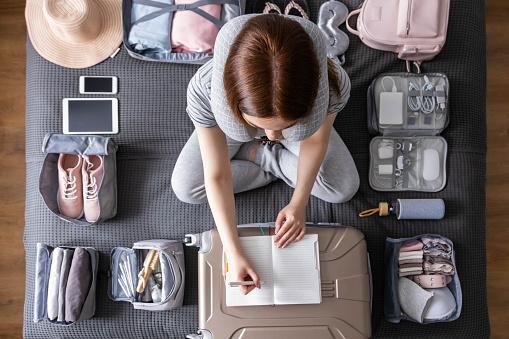 Causal Outfits
Depending on what time the wedding commences, you might have some time in the day to spare. Wedding ceremonies sometimes include more than just the ceremony and reception. There are also rehearsal dinners, other celebratory activities, breakfasts, or even lunches to plan; You will undoubtedly require some casual clothes for these activities.
Therefore, you should bring some proper casual shoes, a simple shirt and possibly some trousers or shorts for this purpose.
Essential Toiletries
Toiletries are a must-have on any travel packing list, not just for weddings. Especially if you have allergies to certain ingredients.
You should always have your travel toiletries list, but here is a basic list of essential toiletries you should add to your packing list.
Makeup and makeup remover.
Hair conditioner and shampoo
Shaving product
Sanitary pads and tampons
Shower gel, body wash and other shower products
Hair styling tools (Hair dryer, curling iron, or straightener)
Mouthwash, toothpaste, and a toothbrush
Deodorant, perfume, or cologne
Hair products (such as hairspray, hair cream, or gel)
Essential Accessories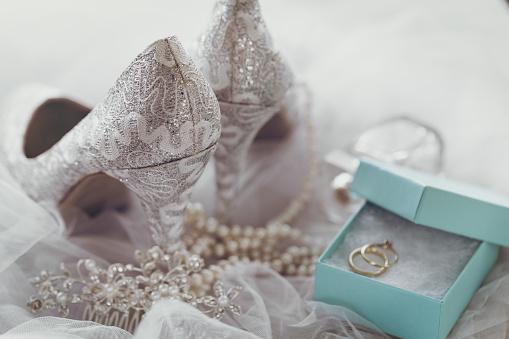 Along with choosing an outfit, accessories are an integral part of your wedding packing list. Always make sure you pay attention to the tiniest details; you know, the accessories are the icing on the cake.
Bring the essential accessories you need, such as jewelry, casual shoes, undergarment, and any other accessories of your choice, like clutch bags, which are perfect for maintaining a formal look.
Also, if you worry about packing too many items, we recommend bringing accessories that you can combine with many outfits.
Formal Outfit
You should also include a formal outfit on your packing list if you intend to attend a welcome party, rehearsal dinner, or both.
A long dress or an attractive cocktail dress is a beautiful choice.
Additionally, we recommend that you are familiar with the dress codes of these events to prepare and pack appropriate clothes.
Comfortable Shoes
Stylish and comfortable shoes should be on your wedding packing list; you will have a long day strolling about and dancing. You'll feel more at ease and avoid spending the night barefoot if you wear comfortable shoes.
You should also consider bringing a pair of flats whenever you wish to take off your heels.
Portable Charger Or Power Bank
The last thing you want when making enjoyable memories and taking lots of photos is your battery running out. Consider including a power adaptor or, if possible, buy one.
Remember to charge it!
Wedding Day Outfit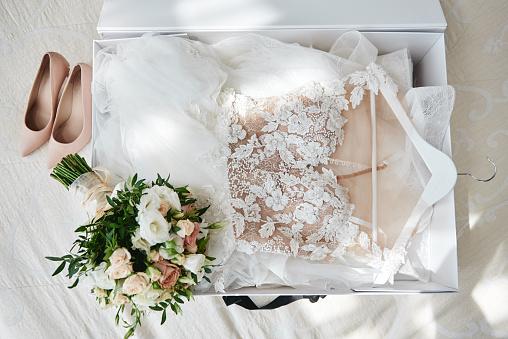 Before the wedding, make sure your outfit fits well. Also, ensure you have extra clothes in case your wardrobe malfunctions.
Additionally, try to choose your clothes as soon as possible to save the stress of scrambling for the ideal outfit at the last minute.
To avoid ruining your outfit, we recommend choosing an outfit that would be simple to pack.
First Aid Kit
Make sure you have an emergency first aid kit ready just in case you need it (I hope you don't). The kit should include band-aids and some over-the-counter medications such as pain relievers, diarrhea medication, and anti-inflammatory drugs.
Safety Pins
This might be an unusual Item, but it is important to have on your list.
Safety pins are necessary to assemble clothes in the event of a wardrobe malfunction because they can happen anytime.
Pack as many as you can in a different sizes to be prepared for any last-minute outfit or wardrobe emergency.
Snacks and Water Bottle
Carry your water and snacks everywhere.
Always remember to remain hydrated and pack a snack as well. You don't want to wake up famished after a night of dancing. Not to mention that you could become dehydrated and exhausted. A reusable water bottle and snacks should be included in your packing list.
Wedding Gift and Card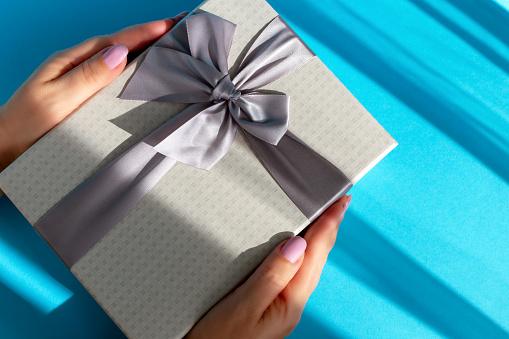 It's always wonderful to arrive at a wedding with a present. Even if you have sent a gift, To show the couple how much you value them, it is a great thing also to bring a card (a customized card is a wonderful touch). However, if you're giving the couple money as a present, You should place it in an envelope or the card you bring to the event.
Conclusion
All newlyweds, as well as the guests, find the wedding day to be a memorable and happy moment. Only that there are a lot of stressful details and things to be worried about.
Because there are so many factors to take into account while preparing for a wedding, it may be stressful and overwhelming. Is there a destination involved? (you should use the international packing list). Is the wedding formal or conventional? What the required outfit is, etc. Any situation can be handled with a good packing list, no matter what.
We have created a wedding packing list with all the essentials for your convenience. All that's left to do now is make some amazing memories and have a good time.