Best Places To Visit In New Zealand in 2023
Undoubtedly, New Zealand is one of the most beautiful nations in the world. It consists of two main islands, the North and the South Island, which feature spectacular natural beauty, from enchanting green hills to mountains and lakes that offer the most exquisite views. New Zealand is a fantastic travel destination as it is rich with breathtaking landscapes.
With only about 5 million people, New Zealand is one of the least densely populated nations in the world. Located close to the coastline, it has a climate ideal for a temperate region: tropical summer weather, moderate rainfall, and plenty of sunshine that is neither overly hot nor warm.
Here are the best places to visit in New Zealand to take in the breathtaking natural scenery.
The Best Places To Vist In New Zealand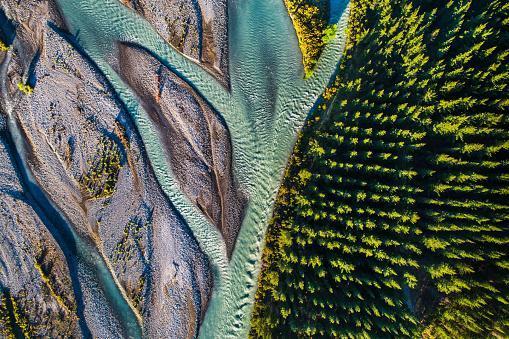 Queenstown, South Island
Queenstown is a well-liked vacation destination, perfect for backpacking practically all year round. It is located on the shores of Lake Wakatipu and is surrounded by stunning mountain peaks. Queenstown is sometimes also referred to as the "adventure capital of the world" because it not only offers extreme and exciting sports like skydiving and skiing but also because it is one of the most exciting cities in the world. 
The four unique seasons in Queens Town are winter, which delivers clear blue skies and snow that is perfect for skiing; spring, which preserves the snow but blooms into the warmer days; summer, which gives sunlight and dazzling evening stars; and autumn, which brings along a spark of vibrant red, yellow, brown, and orange blazing leaves on the trees.
Auckland, North Island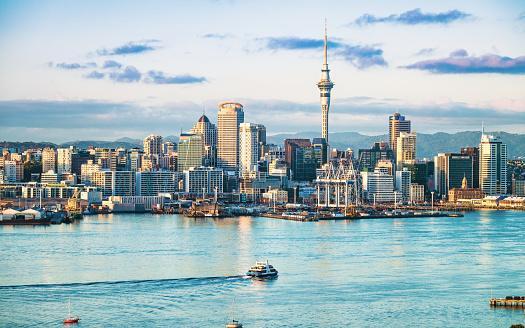 Auckland is the largest and most populated city in New Zealand, also known as the "City of Sails," owing to the abundance of yachts that line its seas. It is on the North Island and is well-known for its thriving culture, culinary scene, and breathtaking views of the lovely city offered by the Auckland Harbor Bridge.
Auckland features excellent tourist sites that exhibit New Zealand's history and legacy. Like the Auckland Domain, the oldest and largest park in the city created on 75 hectares around the cone of an extinct volcano, the War Memorial Museum, Auckland Zoo, Piha Beach right next to the Waitakere Mountains, the volcanic peaks of One Tree Hill, the Maritime Museum, and more.
Coromandel Peninsular, North Island
Over the Hauraki Gulf from Auckland and away from the bustle of the metropolis lies the Coromandel Peninsula. Its rugged mountains are covered with dense forest, forming a spine along the peninsula and offering excellent skydiving and hiking opportunities. Its beaches are famous for their white and gold sand and other activities, such as sea kayaking around the offshore islands.
The Coromandel Peninsula has numerous galleries and art studios for you to visit. The gold mining history of this town contributes to its abundance of natural wonders.
North Island; Napier; Hawke's Bay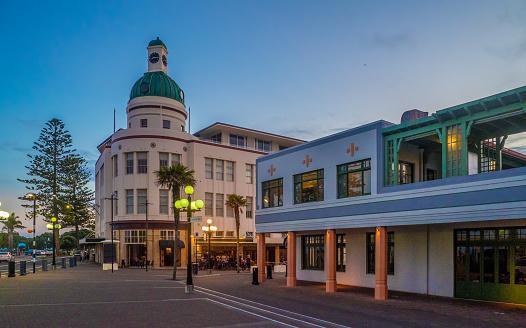 One of the best places to visit in New Zealand for a glimpse of the Maori world is Napier. They are also called Ahuriri and are known for their fine restaurants, Art Deco architecture, Spanish Mission-style buildings, and Art Deco-style structures surrounding the city.
The city has several great attractions for you to visit, including:
The New Zealand National Aquarium is filled with sea creatures ranging from turtles to fish to crocodiles.
The Waimarama Beach: with incredible wineries to check out, and Sunken Gardens, which offers one of the most beautiful and picturesque parts of the Marine Parade, among many others. 
Kaikoura
Kaikoura is a modest coastal town in New Zealand with beautiful scenery known for its incredible fishing opportunities and abundance of wildlife, which will elevate your spirits to a new height and delicious seafood dishes.
You won't be able to resist this location. The modest little town offers activities to keep you hooked, Such as gazing out at sea on a cruise where you can spot dark dolphins glowing, blue-eyed penguins, fur seals, sperm whales, and more, and scuba diving to explore Kaikoura's incredible coral reefs.
Glacier Country, Franz Josef Glacier, and Fox Glacier
Franz Josef Glacier and Fox Glacier are the two most impressive glaciers in New Zealand and significant tourist destinations in Westland Tai Poutini National Park in Glacier Country on the Western Coast of the South Island. These ice rivers travel from some of the Southern Alps' highest peaks to an area close to sea level, where you can quickly go on foot explorations owing to the mild coastal environment.
Adventures and activities like hiking and climbing on glaciers are plentiful in glacier country. Alternatively, you can choose a helicopter's aerial view to experience a spectacular view of the frozen landscapes, the incredible ice caves, and the snow-capped mountains at the glacier's side while you tour this location.
Rotorua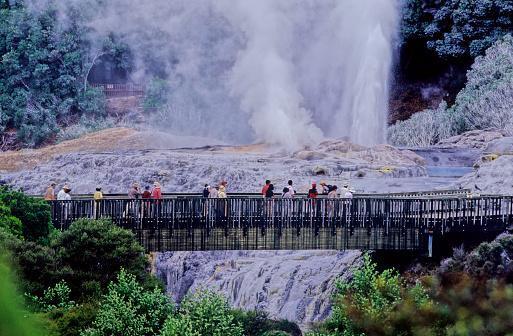 Rotorua is one of the most active geothermal areas in the world and is situated on the turbulent Pacific Ring of Fire. Rotorua is a fantastic place where you can witness the earth at work. The forces that created most of New Zealand's dynamic terrain are revealed in this place, from boiling mud pools to hissing and steaming geysers to volcanic craters and steaming thermal springs.
You also learn about the region's incredible native history and culture while visiting several intriguing sites. You can enjoy a walking tour of such geothermal marvels and relax in hot mineral springs. Also, you can engage in adventure sports like mountain biking, hiking, and skydiving.
Conclusion
New Zealand is a great country with a wealth of breathtaking landscapes and tourist sites, seafood cuisine just waiting to be tried, adventures, and other things to do. This list of the best places to visit in New Zealand will act as your ideal tour guide, ensuring you have an enjoyable vacation and creating treasured experiences that will last a lifetime. Plus, these places capture the inherent greatness of the country, so have fun.